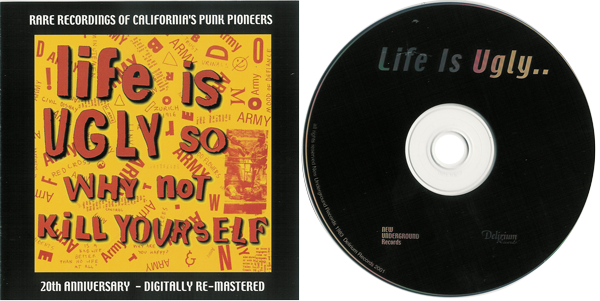 Please help support independent music by purchasing a song or CD.
All proceeds go to continuing to make indie music available for your life's pleasure.
Buy CD
[box]
1. Brat – Red Cross

2. I Want To Be A Bear – Descendents

3. Fight War Not Wars – ANTI

4. I Don't Wanna Die – ANTI

5. Paranoid – Ill Will

6. Midnite Deposit – Ill Will

7. You're So Fucked To Me – Civil Dismay

8. Warhol Genius – Civil Dismay

9. Filch – Civil Dismay

10. Criminal – China White

11. Solid State – China White

12. Empty Me – Mood Of Defiance

13. Shit You Hear At Parties – Minutemen

14. Maternal Rite – Minutemen

15. Sensible Virgin – 100 Flowers

16. She's A Drone – Urinals

17. The Children Song – Zurich 1916

18. Payday – Plebs

19. Disillusion Fool – Saccharine Trust
[/box]
RED CROSS – "Rich Brat"*
*First Red Cross Recording with Original line-up (10/79)
Jeff McDonald – Vocals, Greg Hetson – Guitar,
Steve McDonlad – Bass, Ron Reyes – Drums
DESCENDENTS – "I Want To Be A Bear"
Milo – Vocals, Frank Nautta – Guitar,
Tony Lambardo – Bass, Bill – Drums
ANTI – "Fight War Not Wars",
"I Don't Wanna Die"
Bert – Vocals, Gary – Guitar, Danny Phillips – Bass, John McCarthy – Drums
ILL WILL – "Paranoid", "Midnite Deposit"
Adam Guy – Vocals , Sheldon Parker – Guitar, Brian Ramsey – Bass, Mark Haley – Drums
CIVIL DISMAY – "You're So Fucked To Me", "Warhol Genius", "Filch"
Jay Skyrus – Vocals, John Napier – Guitar, Nick Danials – Bass, Kip Upton – Drums
CHINA WHITE – "Criminal", "Solid State"
Mark Martin – Vocals, Frank Raffino – Guitar, James Rodriguez – Bass, Joey Raffino – Drums
MOOD OF DEFIANCE – "Empty Me"
Tao Hatha Makemudra – Vocals, Gary Whatever – Guitar, Danny – Bass, Gilbert Pecheco – Drums
MINUTEMEN – "Shit You Hear At Parties", "Maternal Rite"
D. Boone – Guitar & Vocals, Mike Watts – Bass, George Hurley – Drums
100 FLOWERS – "Sensible Virgin"
John Talley Jones – Bass & Vocals, Kjehl Johansen – Guitar, Kevin Barrett – Drums
URINALS – "She's A Drone"
John Talley Jones – Bass & Vocals, Kjehl Johansen – Guitar, Kevin Barrett – Drums
ZURICH 1916 – "The Children Song"
Rachel – Vocals & Synthesizer, Gary Kail – Tape Manipulation & Processing
PLEBS – "Payday"
Gino Pusztai – Vocal & Clarenet, Martin – Sax, Ken Stakey – Guitar
SACCHARINE TRUST – "Disillusion Fool"
Jack Brewer – Vocals, Joe Bega – Guitar, Louis – Bass, Richard – Drums
ALL TRACKS PRODUCED BY SPOT
Except Red Cross by Joe Nolte, Ill Will by Ill Will, Civil Dismay by Civil Dismay, Minutemen by Make Patton, 100 Flowers / Urinals by Vitus Matare, Zurich 1916 by Gary Kail
Thanks to John McCarthy & Make Watt for going above and beyond the call of duty. To John O'Donnel for the Peppermint Schnapps, to Jeff & Steve, Rachel, Andy, Beverly, Patty Hansel & Rodney B.
This Album is dedicated to the late Alan Watts
It's been said that New York invented punk, London politicized it and Los Angeles perfected it. In the late 70's and early 80's Southern California spawned a fleet of pioneering punk bands that forever changed the sound landscape of the world.
The "Life Is…," collection is a key sampling of this first wave. Most of the available compilations of this era were put together put to after the fact, but, ╥life Is…╙ was originally assembled while these bands were just starting out.
On this CD are early recordings of such now-legendary acts as the Decendents, Anti, the Minutemen, China White and Saccharine Trust. Even the others who are less renowned have had their impact. While a few are less renowned, But even those have had their impact. In her book "Route 666: On The Road To Nirvana" Gina Arnold mentions the Urinals and 100 Flowers as highly influential bands in the early local Los Angeles punk scene who opening the door for the likes of Camper Van Beethoven and the Butthole Surfers. Red Cross (later forced to rename themselves Redd Kross by the Red Cross of America) and the Plebs became leaders on the Psychedelic Punk movement. Mood Of Defiance also gave birth to the Gothic Punk movement of the middle Eighties.
The punk and alternative sounds arose from the underground to a more widely accepted form by the 90s, but this is where it all began. We hope you enjoy these rare bits of our Punk Rock past.
Please help support independent music by purchasing a song or CD.
All proceeds go to continuing to make indie music available for your life's pleasure.
We hope you enjoy listening to the free indie music on this page and we hope you have discover a new artist you enjoy. Support your local music scene.