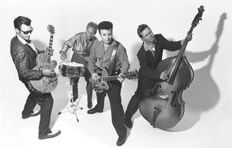 With the profusion of bands emerging, distinguishing one outfit from another is becoming increasingly difficult. The same songs are rehashed so often that the new music borders on generic at times. "Instant swing: just add water!" Consequently, I have honed my shell pinks into finely tuned radar, ever vigilant for originality. Danny Dean & The Homewreckers fit my bill quite nicely, playing early 1950s suit-and-tie rock 'n' roll akin to The Tyrones, Freddy Bell & The Bell Boys, and Charlie Gracie & His Wildcats. With honkin' sax instrumentals, rockin' blues-inflected vocals, clean guitar licks, a steady rhythm, and plenty of moods and tempos, their music is rebellious with a touch of class. They love what they do, and it shows. The Homewreckers have only been together for sixteen months, but they haven't gone unnoticed. Having shared the stage with Bill Haley's Comets and struck the first chord for Tom Ingram's Viva Las Vegas and the 4th annual Grease Ball in San Francisco – Dean guest appeared on stage with Gene Vincent's Blue Caps, and most recently The Homewreckers appeared on a Xmas episode of Beverly Hills 90210. This Los Angeles-based quintet is earning its stripes in a hurry. The complete line up features Chris Wakula (guitar), Gavin Jones (upright bass), Callum Benepe (formerly of the Jumpin' Jimes on drums), and Kirk Tracey (Save Ferris saxophone).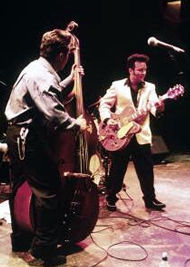 As with so many other swing and rockabilly musicians, the 33 year-old Dean has had a diverse career in L.A.'s underground music scene. In 1978-1979, he played with the surfabilly outfit Skinny Memphis "back when surf was laughed at by most". From 1980-1984 he played with punk rockers Anti – opening for such acts as Black Flag, Circle Jerks, TSOL and Fear – and moonlighted with Mood of Defiance. In addition, Dean wrote for the L.A. punk ╘zine Flipside, with a featured column entitled "The South Bay Report".
In 1985, Dean formed Easter, a punkabilly pop group with Mike Ness of Social Distortion on rhythm guitar. Their videos played on MTV nationwide, and their music was on a regular rotation on L.A.'s influential alternative radio station, KROQ.

After two albums and a 12-inch, the band called it quits in 1990. Dean went the progressive rock route in 1992 with Mercury Tilt Switch. They broke up in 1994, but not before performing live on the local morning television show Good Day L.A. and releasing an album. In 1995, he formed Danny Dean & The Hot Rod Orchestra, an Adam & The Ants-meets Gary Glitter act complete with two drummers and a horn section.
But even in those earlier years, Dean received plenty of exposure to the '70s and ╘80s roots revival through James Intveld, Jimmy & The Mustangs, Levi Dexter, and The Orangutangs. "I was really impressed with the rockabilly scene. Everyone dressed so damn good. It was all about Americana: music, clothing and cars." According to Dean, "Early punk had a definite rockabilly influence. It borrowed heavily from rockabilly's rebellious attitude and music. Just listen to the Sex Pistol's covers of Cochran and Berry tunes. In fact, everything I have ever played has had a rockabilly undertone, but now I've decided to get back to my roots proper."
John Abram – Swing Time Mag. #10
Vocalist / guitarist Danny Dean Phillips formed the band early in 1997. Even though the band is relatively new Danny Dean has been a part of the L.A. music scene for two decades. At the age of 14 Danny formed the psycho Billy-surf band, Skinny Memphis. In 1980 Danny then founded and released three albums with the legendary L.A. punk band "Anti". In 1985 Danny formed the pop punk band ,Easter. Easter released an LP on Capitols Chameleon Label. In his twenty years playing his heart out Danny Dean has released five full length albums and handfuls of singles, had three videos played on MTV and has performed live on Fox Televisions "Good Morning L.A." along with placing several songs in movie soundtracks and compilation CDs.
One of the strongest points of The Homewreckers is that backing Danny Deans vocal styling are a band of die hard and talented musicians. From the very beginning Gavin Jones and Chris Wakulla have add the perfect texture to the Homewreckers sound. Chris Wakula adds just the right amount of spice to the sound with his stunning lead guitar work. Gavin Jones is a powerhouse driving the sound with his intense stand-up bass slapping.
Danny Dean & the Homewreckers are currently play to capacity crowds in venues ranging from small clubs to mid-size theaters and outdoor festivals. The band performs weekly in swing halls from San Diego to San Fransisco.
Wishing to put out the best rockabilly CD of 1999 the Homewreckers took no short cuts. In order to get the classic sound that the band loves so much, they purchased vintage sound and recording equipment and used techniques used in the studios in the era of Gene Vincent, Eddie Cochran and Bill Haley's Comets. They recruited today's top producers and engineers to balance the old with the new. They brought in Jay Baumgardner, Bob Saling and Steve Mixdorf who have been apart of many to the 1990's top hit including Jewel, Hootie and the Blowfish, Korn and Puff Daddy.

Albums:
Move It
Growl
Rockabilly Lover

Compilations:
Isn't She Still… The Pretty in Pink Soundtrack Revisited
Even Better Than The Real Thing – A Tribute To U2
Immaculate Deception – A Tribute To The Music Of Madonna
A Little Bit Me, A Little Bit Neil – A Tribute To Neil Diamond
Please help support independent music by purchasing a song or CD.
All proceeds go to continuing to make indie music available for your life's pleasure.
We hope you enjoy listening to the free indie music on this page and we hope you have discover a new artist you enjoy. Support your local music scene.