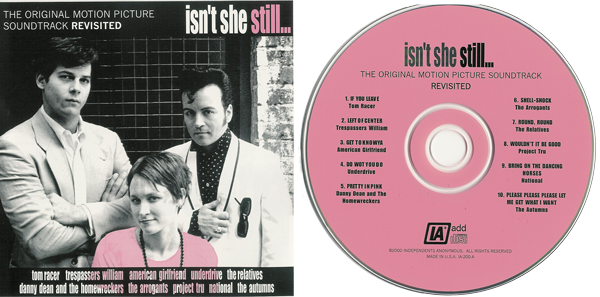 Please help support independent music by purchasing a song or CD.
All proceeds go to continuing to make indie music available for your life's pleasure.
Buy CD or iTunes
[box]
1. If You Leave – Tom Racer

2. Left Of Center – Trespassers William

3. Got To Know Ya – American Girlfriend

4. Do Wot You Do – Underdrive

5. Pretty In Pink – Danny Dean and the Homewreckers

6. Shell-Shock – Arrogents

7. Round Round – The Relatives

8. Wouldn't It Be Good – Project Tru

9. Bring On The Dancing Horses – National

10. Please Please Please Let Me Get What I Want – The Autumns
[/box]
If you have purchased this CD as a Digital Download and you wish to have the CD artwork Download this file – CD artwork for Isn't She Still…
Please help support independent music by purchasing a song or CD.
All proceeds go to continuing to make indie music available for your life's pleasure.
We hope you enjoy listening to the free indie music on this page and we hope you have discover a new artist you enjoy. Support your local music scene.