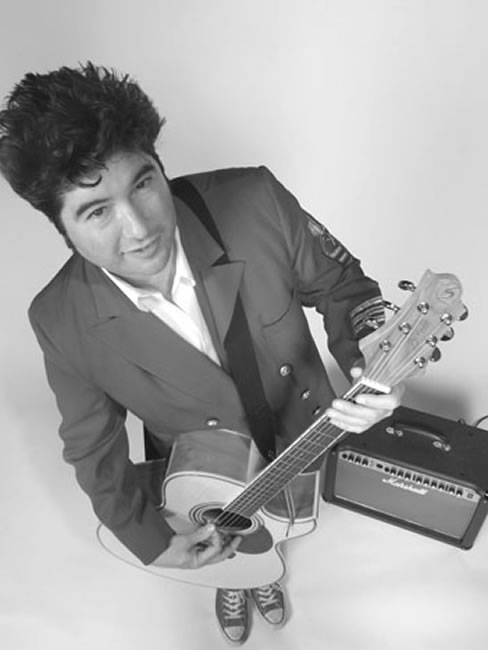 Even at an early age Chris Cruz found himself wrapped in the healing arms of music. As the infant son of a Naval enlisted man during the Vietnam era and raised in the West Long Beach Navy Housing his life was never certain. Not quiet fitting in, as one of the only light skinned kids at his school, Chris found friendship and comfort in the sounds emanating form his mothers small FM radio. The FM radio sound of the early 70's with artists like Crosby, Still, Nash and Young and John Denver would later reemerge in Chris own music.
Spending summers with his Johnny Cash obsessed Grandfather and Sundays with St. Anthony's Church folk combo Chris╒s passion for music of all kinds became cemented in his soul.
Chris joined the school Choir in 4th grade and remained a member of the Choir through elementary and middle schools. While at Stevens Jr. High in Long Beach Chris borrowed a trumpet from a friend and began taking band classes. By the second semester Chris was in Intermediate Band but had lost the use of the horn. Even which the music director arranging for a discount a new horn seemed like an impossibility, but after some scrimping, saving and more than a couple family arguments Chris mother was able to purchase the $150 horn.
As much as the new trumpet brought joy it also brought pain in the form of gang members jumping Chris, who had to protect his new horn with his body. After one sure assault ended in a permanent scar over his left eye, the Cruz family moved of West Long Beach to Cerritos California, where at Cerritos high school Chris also joined Concert and Marching band. While in High school, Chris discovered the powerful music of Tom Petty and the Clash, which would also influence Chris╒s own music.
While attending Long Beach State College, as a Music major, Chris played trumpet in the Marching band and Pep Band. At this time Chris Started playing guitar, writing songs and jamming with his younger brother, Jose. Chris formed his first band ARBITRAGE with fellow both Cerritos High students, Marc Ford (Burning Tree, Black Crows) and Jim Ashhurst (Broken Homes, Buckcherry), which recorded one EP.
Chris worked in the records distribution business to paying off student loans and learned about the uglier side of the music business. Chris former his own label to put out his own records, but in the process ended up joining his brother Jose╒s raw rock band, Doom Kounty Electric Chair, and releasing their records.
In 2006, producer and independent record label owner Curt Sautter, who at one point had been interested in working with DKEC, discussed demoing some of Chris╒s own songs. This event led to the recording of two full-length CD"In My Heart" and "On My Mind" one love and lament songs and the latter more social relevant songs. During the recording of the CD's Chris was asked to join another one of Sautters artists, The Relatives.
Now with acoustic guitar based two albums under his belt and a power pop band beside him Chris Cruz's world is over flowing with the music he loves.
[box][/box]
Albums:
In My Heart
On My Mind
Please help support independent music by purchasing a song or CD.
All proceeds go to continuing to make indie music available for your life's pleasure.
We hope you enjoy listening to the free indie music on this page and we hope you have discover a new artist you enjoy. Support your local music scene.