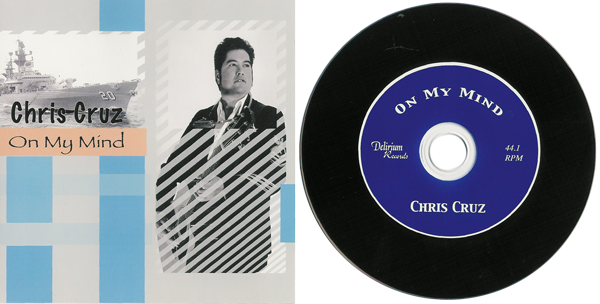 Please help support independent music by purchasing a song or CD.
All proceeds go to continuing to make indie music available for your life's pleasure.
Buy CD or iTunes
[box]
1. Sirens

2. Better Than Today

3. Let The Love Grow

4. Ringing In My Head

5. Take That Pill

6. Dead Or Alive

7. End Of Time

8. Times Will Get Hard

9. I Saw The Paper

10. Back In '69"

(bonus track)
11. Click Click Click (On My Mind Mix)
[/box]
"On My Mind" is the second solo full length CD from singer/songwriter Chris Cruz and the second in a two part CD set. This acoustic guitar based album is as eclectic mix of Folk, Americana and Rock. Orange County Register called Chris "heartfelt folk music with echoes of the Beatles, Buddy Holly, Tom Petty and Roy Orbison". Chris merges his influences and strikes at the center of American music. This is a collection of songs about fear, contempt and hope in a world where Governments and corporations use fear as marketing tools.
Venturing off the beaten path Chris allows himself to stray into his College band past by adding horns into deeper musical arrangements.
This CD is the first part of a two part collect the other CD "On My Mind" being songs from facing a troubled world and corporate greed.
Chris Cruz – Vocals, Guitars, Bass, Harmonica, Trumpet
Rob Klonel – Drums, Percussion
Chris Hernandez – Lead Guitar
Michael Ubaldini -Vocal on let the love grow
Curt Sautter – Keyboards, Backing Vocals
Kevin Darish – Backing Vocals
Jason Arthur – Backing Vocals
Produced and Recorded by Curt Sautter
Recorded at Delirium Records
Mastered by Gil Matthews, The Mastering Lab Melbourne, Australia
All Songs Written and Arranged by Chris Cruz – Published by Scene City Music BMI
On My Mind and In My Heart were written and recorded in the past two years in a casual environment simply for the pleasure of making music. What started out as a way to document some of my songs has turned into two recordings.
While In My Heart features songs about love, life, and dreaming, On My Mind features songs about hope and concern for our World. A nation at war, questionable leadership, and a fluffed up media dominated by corporate interests. It feels like we are at the mercy of unseen forces where the truth is sometimes difficult to find. I hope you enjoy these songs of illumination and hope for our world as much as we enjoyed making this recording.
If you have purchased this CD as a Digital Download and you wish to have the CD artwork Download this file – CD artwork for On My Mind
Please help support independent music by purchasing a song or CD.
All proceeds go to continuing to make indie music available for your life's pleasure.
We hope you enjoy listening to the free indie music on this page and we hope you have discover a new artist you enjoy. Support your local music scene.