Between 1987 and 1990 Organized Crime had been one of the Inland Empires finest second generation punk rock bands. Organized Crime was revered for their tight and active live show and energetic and melodic songs. Playing consistently in the San Bernardino, Orange County and Los Angeles areas. In 1990's the original members parted ways each exploring new directions.
Reforming late in 1994 the founding members assembled the new lineup from a group of like-minded musician friends. Keeping things as basic and fun as possible. Original/founding members Jesse Ortiz, Jason Arthur and Fred Wright have recruited Hoodlumz bassist, Curt Sautter and Herr Pablo drummer, Craig Aguilar to round out the new lineup. The group recorded a four song E.P. for Delirium Records and toured throughout Southern California.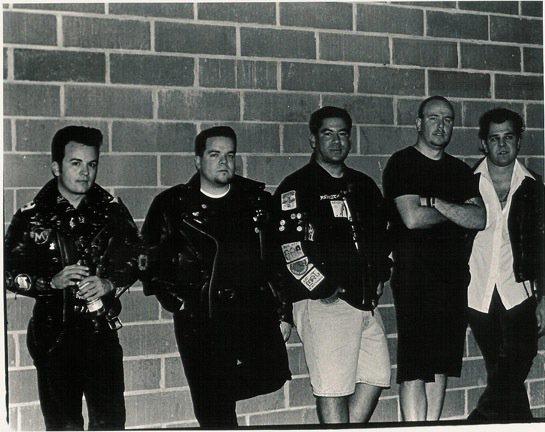 From 1996 – 97 Organized Crime has play to capacity crowds in venues ranging from small clubs and middle sized theaters to arenas such as Irvine Meadows Amphitheater and the San Bernardino Arena. They had performed with such name acts as Agent Orange, The Dickies, Voodoo Glow Skulls, Total Chaos and China White.
Organized Crime commanded the stage with a fun loving show and energetic set. Organized Crime became renowned for their powerful wall of vocal harmonies and background vocals. Since four of the five members have fronted other groups in a wide variety of styles of music since the original formation, a new excitement, enthusiasm and understanding had also been brought to the group.

Undoubtedly the most attractive point in the Organized Crime organization is their song writing ability. Simple harmonies and playful lyrics set a solid base for compelling punk rock anthems. When asked about their song writing the members reply "We write songs from our heart and souls. We don't force ourselves to write punk material because it is the flavor of the month. We don't dictate what the end result will be; we just let them grow on their own. We would play the same songs even if no one cared." Organized Crime is what we are all about, as group and as individuals.


In 1997 after eight months of continues lineup changes Organized Crime called in quits.
Please help support independent music by purchasing a song or CD.
All proceeds go to continuing to make indie music available for your life's pleasure.
We hope you enjoy listening to the free indie music on this page and we hope you have discover a new artist you enjoy. Support your local music scene.